COMPETITIONS: COMMERCIAL, RE and ARCHITECTURAL
Competitions Project Management
by: arch. J. J. Gruzewski, MA
page 1 of 3

MUSEUMS, COMPETITIONS AND COMMERCIAL BIDS
Organization & Management

Between 1992 and 2022 I participated in many architectural, PM, Construction, Real Estate, Public Use bids and competitions.
In 2007-08, as an Operations Director, I successfully directed all phases of the $760 million USD (58,000 sq.m.) iconic Cultural Center project for the Saudi Aramco. The SA Cultural Center / Museum, called: the King Abdulaziz Centre for Knowledge and Culture - project has been chosen to commemorate the 75th Aramco Anniversary. The SACC, Saudi Aramco's 75th anniversary gift to the Kingdom of Saudi Arabia, has been specially designed to create an iconic state-of-the-art cultural facility. Location: Al Khobar, Dhahran.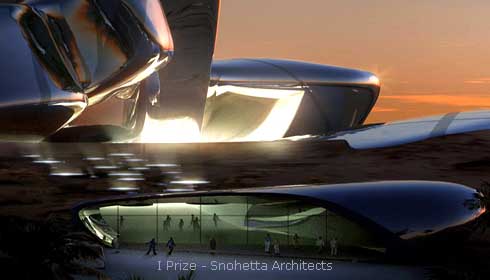 Museums / Cultural Center projects I have directed :

The SACC Museum & Cultural Center for the Saudi Aramco, KSA

PM & Reviews: The Saadiyat Island, 4 Museums, Cultural District, Abu Dhabi, UAE

Art Museum competition for Sta Barbara's University of California, USA

Abu Shum Um $9 Billion USD master planning competition in Abu Dhabi, UAE

The MIMARI , $820 MN World Trade Center with Minoru Yamasaki, 1st Prize, USA

Studio ABC International, US Consulate competitions, 2nd Prize, EU

Dubai Tennis development, master-planning, Dubai Land, UAE

assistance: Failaka Island hospitality development competition, Kuwait

Commercial / Construction Bids for the US Govt projects, MA, USA

also:

Brwinow Housing master-planning competition, 1982, Europe

MIT competition for a new School of Architecture HQs., MA, USA

Final 3 day Jury Review at Saudi Aramco, Dhahran


J. Gruzewski (PM and BD Director) presents site and explains competition rules to 6 semifinalists

I have selected 25 architectural teams, and then directed selection of 6 best suited and the world renowned architects:

| | |
| --- | --- |
| 1. | Atelier Hans Hollein, Austria |
| 2. | Zaha Hadid Architects, UK |
| 3. | Oma&Amo, Holland |
| 4. | Omrania, KSA (with the HL, Denmark) |
| 5. | Snohetta, Norway (Winner) |
| 6. | ZFP, KSA |

Directed selection of 6 best qualified architectural teams for SACC

Led presentations for the SACC Board of Directors

Created design guidelines and rules

Led on site meetings with all participants (image above)

Created Design Scope of Work for 6 semifinalists

Led a meetings with SA's Chairman and 2 vice-presidents

Controlled outgoing and incoming documentation

Monitored and assisted Consultants design process

Selected Technical Jurors

Created Technical Review Criteria

Led Technical Review process

Created documents for final Competition Phase

Selected and invited international competition Jurors

Monitored all preparation works, and final competition phases

Monitored contracts and honorariums payments
SACC COMPETITION - IMAGES:


Zaha Hadid Architects from London placed Second - model above


Winner Announcing Award Meeting in Saudi Aramco HO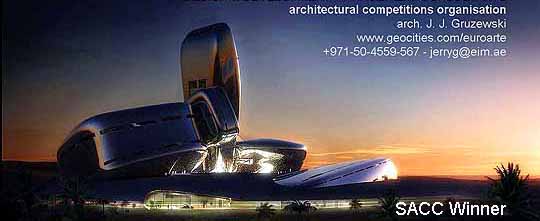 above: SACC Competition Winner: Snoheta Architects
backdoor story: Snohetta was almost out, due to its very elevated competition fee request;
understanding Snohetta chances, I personally insisted on a 50% cut in financial expectations,
Later in, my decision has offered Snohetta's I Prize.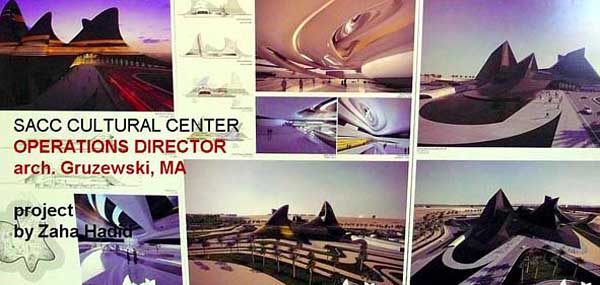 Saudi Aramco would not have an iconic piece of architecture without professional help from my competition management team . It took us a record short time of 4 1/2 months only, from an idea to a Winner announcement.
Similar in scale and importance International Competitions take from 9 to 12 months of time.
Total organization, management and architects fees expence: 0,5% of construction cost.
SA Cultural Center will opened to a public in 2011.
CONTACT ME, IF I COULD BE OF SERVICE TO YOU
---
PAGE 2